Start out with our "Class Year" photo albums:      
Waterville School Buildings

The Waterville School District No. 5 was established in 1886. The first classes (1888) met in a building on the corner of Locust and W. Park St, which later became the town library. The first schoolhouse was built in 1889 on property donated by Mr. James H. Kincaid, which is the site of the current Waterville School. The school was painted white and had a red roof. The grounds were surrounded by a white board fence. Beginnings...
Waterville Super Achievers
Ted Dalrymple was the football team's quarterback, the basketball team's point guard, the baseball team's first baseman and he even found time to achieve valedictorian of the class of '51! He was a true Super Achiever.
---
One-Room Schools
Have you ever been curious about the old one-room school houses on the Waterville Plateau? This section of the site is fascinating!
---
Teachers
Earl Moos and George Fisher came to Waterville to teach around the same time. Both were single and shared a room in the hotel. George married his college sweetheart from the North Dakota State College where they both attended. Earl Moos married a local girl that graduated from school here. Someone found a packet of photos from Cheney that had belonged to Earl. They somehow ended up here. George Fisher's Daughter also sent me some photos that were in her mother's photo album. She is scanning them for me. Some of them are here also. Please enjoy! Teacher photos...
---
Shocker Sports Teams
Check out these amazing photos of Waterville School Sports teams!
---
Alumni Then & Now

This is a fun, interactive collection of photos collected mostly from yearbooks and reunions. Are you in here?



---
Feature: Withrow School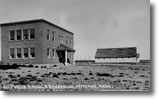 Interesting yearbook and historical photos from the Withrow School.